Historic Collections
The museum holds many objects relating to both Robert E. Peary's and Donald B. MacMillan's exploration and research, ranging from one of the sledges used on Peary's 1908-09 North Pole expedition to the cameras MacMillan used in the 1920s, 30s, and 40s. The collection also includes memorabilia and ephemera relating to Arctic exploration, such as postcards, commemorative booklets, and lecture programs and advertisements.

The anthropological collections include clothing, footwear, hunting implements and other tools collected on Donald B. MacMillan's expeditions to Greenland, Labrador, and Baffin Island between 1923 and 1954. Among other collections of interest are a collection of drawings by Alaskan Inupiat, collected in 1892-93 by missionary Harrison R. Thornton, and a large collection of equipment, scientific specimens, and other materials belonging to Elmer Ekblaw, a member of the 1913-1917 Crocker Land Expedition.

Donald B. and Miriam MacMillan's papers are housed in Special Collections, at the Bowdoin College Library, as are Robert A. Bartlett's. Robert E. Peary's papers are housed at the National Archives. Josephine and Marie Peary's papers are housed at The Maine Women Writers Collection, University of New England Libraries.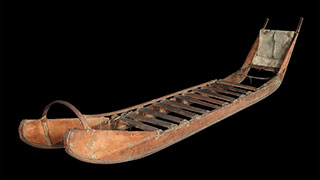 The Hubbard Sledge, presented to General Thomas Hubbard by Robert Peary in 1909, and by Hubbard to Bowdoin College in 1911. Photo by Dennis Griggs.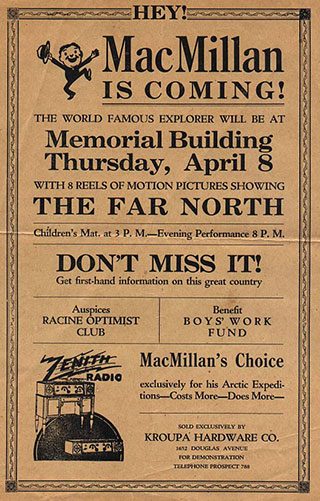 MacMillan is Coming! Poster advertising a lecture by Donald MacMillan, ca. 1930. Gift of Miriam Look MacMillan.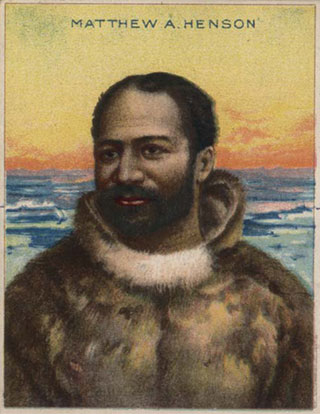 Hassan Tobacco card of Arctic explorer Matthew Henson, 1910. Museum Purchase.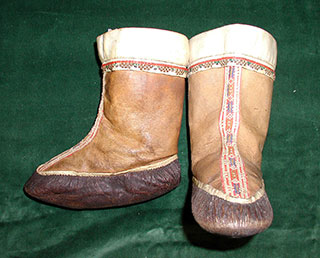 Child's sealskin boots with leather mosaic trim, from west Greenland. mid-20th century. Gift of Miriam Look MacMillan.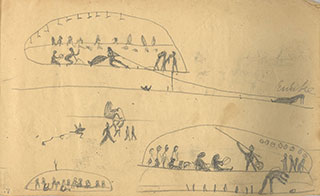 Inupiat drawing of people drumming and dancing, collected by Rev. Harrison R. Thornton, Cape Prince of Wales, Alaska, 1892-93. Museum Purchase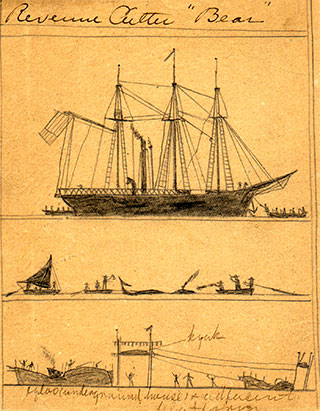 Inupiat drawing of the Revenue Cutter Bear, Cape Prince of Wales, Alaska, 1897. Museum Purchase.